10 Reasons Why I Love Chinatown
On

January 30, 2014

http://Www.thesoapboxfilipina.com
Prior to meeting my husband, I only visited Manila Chinatown, once. I fell in love with it. I promised to go back another day. Then, I married my husband and Chinatown was " everyday ". It now had greater relevance for me.
 It is my father-in-law's connection to his land. It is my husband's lineage. It is my son's heritage.
As for me, what used be just an experience is now kindred.  I used to be just visiting now I feel like a local.  I love how Chinatown in Manila embodies the fusion of Filipino and Chinese traditions. I love Chinatown or the Binondo District, more than I ever did, when I first set foot there.
I grew up loving adobo, hamonada and binignit.  My reasons for loving Chinatown might slightly differ from others. But these are just the 10 Reasons Why I Love Chinatown:   Nothing fancy, just plain happy thoughts.
1. President
I love President. But, before the famous senator, who was allegedly picked up and brought to the

"bahay ng mga pangarap"

, disagrees with me, let me be clear on this. President is a chinese restaurant in the Binondo district.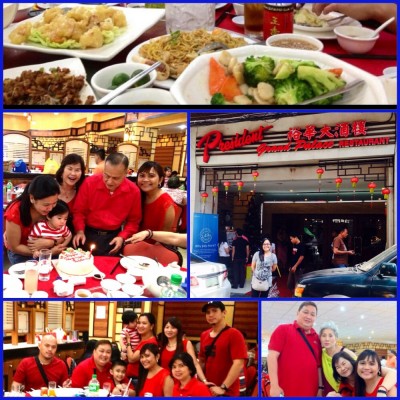 I look forward to every cha pan toh ( or chinese lauriat ) that the family goes there for. Plus, in my childhood, we had a table with a lazy Susan. Today, I get nostalgic just by spinning it, while looking at the plate filled with cold cuts going round and round with it.
2. Wai ying
The hot salad roll from Wai ying,  was what made me say "yes"  to my husband. In sickness and in health, till hot salad roll, do us part.  (" Sweetie, punta ka apartment, dala ka ng foodsss.")
3. Ang Tunay
The real McCoy. Ang Tunay beef house is a restaurant that serves traditional chinese home-cooked dishes. They serve real good mah-ki. ( a viscous soup) My father-in-law ordered the black chicken and the steamed lapu-lapu there for me during the customary geh lai, right after I gave birth.
This fast food, does not boast much ambiance wise, since it is located by the estero, or the nearby drainage canal. But the food is good. My husband and I go there only, without our son in tow.
5. The bakeshop and the deli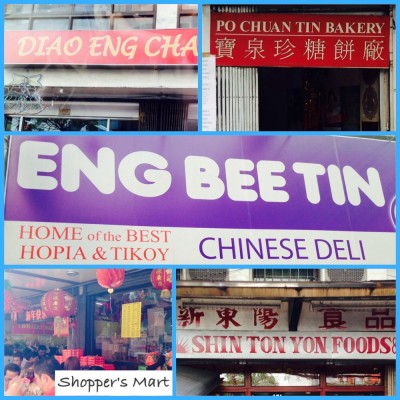 6. The Trinkets  (and the burst of color)
7. Fruits and vegetables
( dragon fruit and persimmon and my son's all time favorite sweet potato )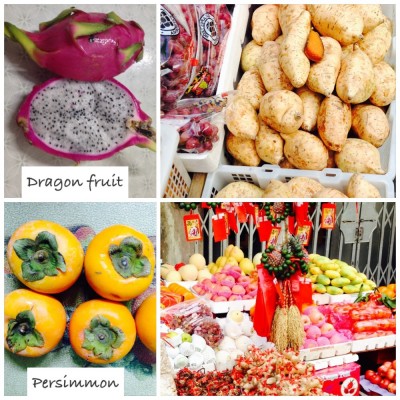 8. Grocery
The Binondo Church exemplifies the bond between Filipino and Chinese beliefs.
The Crucifix ( near Shopper's Mart ) demonstrates, the fusion of Buddhism and Catholicism, as burned Buddhist incense, are offered there too.
I look forward to this event at Chinatown. Kiong  Hee Huat Tsai, everyone!
Dear Friends, thank you for reading. It means a lot to me. You might want to read posts like this, too. Check them out: